AV-Racer Devlog (3): Designing the AI
Thursday, May 19, 2022
est. reading time: 9 minutes
As explained in the
previous article
, the maps include node and spline data for an AI line to follow. The line runs through the track and is meant to guide steering. Having that, the first step to take is to figure out how to make the AI follow the line.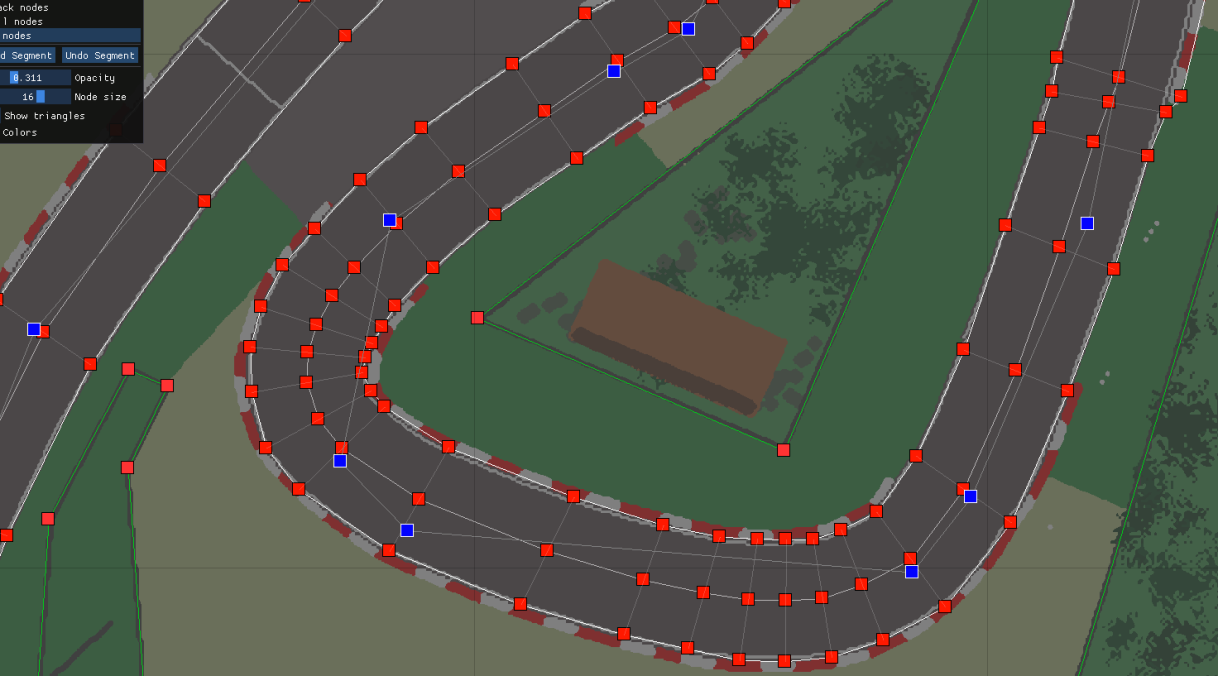 The nodes are in blue. Connecting them is the AI line.
The AI input can be summed up in two main categories: The first is steering, the second is gas and brake input. I decided to tackle the steering first.
Steering
The first and most basic model I thought to implement was a node-oriented steering model. The idea is that a simple vector is calculated from the car's current position to the nearest node on the track. Then an angle is calculated between this vector and the car's longitudinal vector pointing forward. The resulting angle determines how much the car would steer left or right. The steering angle is then capped to 45 degrees.
There were a few prerequisite calculations to get this right. To know where the nearest node is, we would have to loop over all nodes on track, and check where the nearest is. However, this would mean the car would go to the nearest node regardless where it was on the track. So, if that nearest node was on a nearby road parallel to the road the car is on, then the AI would drive itself into a wall; not exactly ideal.
A better algorithm would have us know the current AI node the car is on. Then, relative to that, we get the next node on the track. This will guarantee the car doesn't try to cut the track to the wrong nodes, or even worse, start driving backwards. To know what node we are on we can refer to what segment of the track we are on, and if we are on the same segment as a certain node then we are at that node more or less. This works since track segments are relatively small, as cerated with the map editor.
Getting the car's position:
Below is code from the game on how that is done: